Dr. Ayanna Howard: The Trailblazing Roboticist Tackling Diversity & Bias in AI
From the time Dr. Ayanna Howard was a child, born on January 24, 1972 in Providence, Rhode Island, she knew she wanted to invent robots. When she grew up, she made that dream come true. She earned a Bachelor of Science degree in engineering from Brown University in 1993 and a Master of Science degree and Ph.D. both in electrical engineering from the University of Southern California in 1994 and 1999, respectively. Howard also earned an MBA from Claremont Graduate University. At the age of 27, she took lead of a team of NASA engineers and scientists developing Artificial Intelligence (AI) for Mars rovers.
Howard was named by MIT Technology Review TR100 as one of the top 100 innovators in the world in 2003.  She was featured in Time magazine's "Rise of the Machines" article in 2004. She was also featured in the USA Today "Science & Space" article covering her groundbreaking work in robotics and global warming. In 2008, Howard received worldwide attention for her SnoMote robots, designed to study the impact of global warming on the Antarctic ice shelves. In 2013, she founded Zyrobotics, a technology company that creates mobile therapy and educational products for children with differing needs.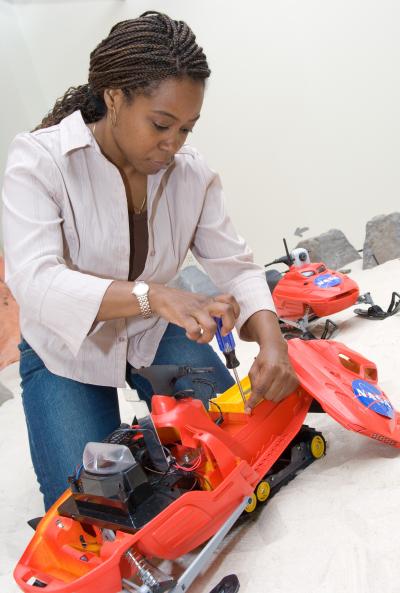 In March 2021, Dr. Howard became the first woman to hold the position of Dean of the College of Engineering at Ohio State University. This was on the heels of her tenure as Associate Director of Research for the Georgia Tech Institute for Robotics and Intelligent Machines, Chair of the multidisciplinary Robotics Ph.D. program at Georgia Tech, and the Associate Chair for Faculty Development in the School of Electrical and Computer Engineering.
According to Dr. Howard, "It takes insane courage to innovate. Courage to open yourself up for criticism. To be in a place where no one has the same diverse experience as you – and be confident that your difference is what makes your ability to innovate unique."
AI Coding Game
Begin by explaining to the children that AI is a computer program that can learn and make decisions on its own. However the AI is programmed to recognize and respond to different types of people, but it only recognizes and responds well to people who look and sound like the people who programmed it, and not to people who look and sound different.
Materials Needed:
Images of many different types of head coverings (e.g., baseball hat, visor, sun hat, yamaka, hijab, kufi, beanie, cycling cap, etc.) - Print them and cut them out in advance.
Arrrgh Mighty Observation Journal (optional)
What can you spy with your scientific eye? Who's ready to get some insight into coding? Let's go!
Instructions:
Place the collection of different types of head coverings out on a table.
Have the children select the items that they identify as hats.
After all the items have been chosen, inform children that all of the items are different styles of hats. See what types of reactions that elicits. Engage the children in conversation.
Explain to children that this is how coding bias in AI works. Their robot would have only identified the hats they choose as hats and omitted the other hats from other cultures.
Have the children discuss how the robot's behavior is not fair or just and how it may lead to bias and discrimination.
Emphasize that it is important for AI to be programmed to recognize and respond to all types of people, regardless of their race, gender, age, or other characteristics.
Encourage children to think about the ways in which they can be inclusive and respectful towards others in their own interactions and decisions.
Optional: Grab your Arrrgh Mighty Observation Journal and describe or draw what you see.
It's important to note that this activity aims to raise awareness of the concept of diversity bias in AI. However, it's important not to over simplify or trivialize the complexity of the topic and to be mindful of children's cognitive and emotional development.