James E. West: The Man Behind the Mic Check
Hey there sound lovers! Today we're going to talk about a scientist named James E. West. Now, you may not have heard of him before, but let me tell you, you definitely have heard the world in a way you never would have without this true audio genius.
James E. West was born in 1931 in Farmville, Virginia, and from a young age, he had a passion for science and technology. His interest in electricity was sparked when he was electrocuted at the age of eight while plugging an old broken radio into a ceiling outlet while standing on the brass footboard of his bed. That incident did not scare him though; instead it inspired him to learn more about electricity.  
After graduating high school West attended Hampton University on a premed track at the insistence of his parents, before being drafted into the U.S. Army in the Korean War, where he received a Purple Heart for being injured in combat. He then attended Temple University studying Physics, where he was initially rejected from study groups due to his race, only being invited to join them after solving the most complex group problems on his own. 
But it was during a graduate summer internship at Bell Laboratories that West made some of his most important contributions to the world. He was interested in finding ways to improve the quality of microphones. His most notable invention is the Electret Microphone, which he co-created with Gerhard M. Sessler. It is a type of microphone that uses a permanently charged material to convert sound into electrical signals. This invention was a game-changer in the field of audio technology, as it made microphones smaller, more reliable, and more affordable. Ninety percent of the two billion microphones produced annually and used in everyday items such as cell phones, hearing aids, conference call systems, and multimedia computers employ Electret technology.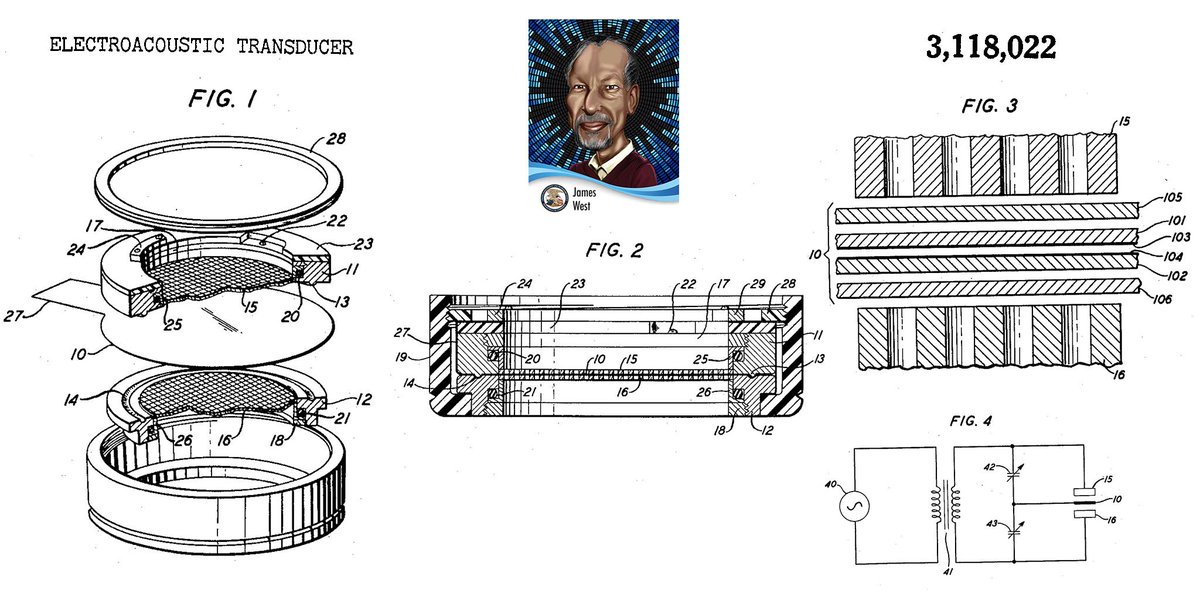 In 2001, West retired from Lucent Technologies after a distinguished 40-year career at Bell Laboratories where he received the organization's highest honor, being named a Bell Laboratories Fellow. West then joined the faculty of the Whiting School at Johns Hopkins University where he is currently a Professor in the Department of Electrical and Computer Engineering. He has received honorary doctorates from the New Jersey Institute of Technology, Michigan State, University of Pennsylvania, Princeton University and Temple University. In 2006, President George W. Bush awarded West the National Medal of Technology and Innovation, the nation's highest honor for technological achievement.
West holds over 250 patents for his inventions and has been recognized for his work with numerous awards and honors. Additionally, throughout his career West has been a fervent advocate for greater diversity in the fields of science and technology.
An interesting fact about James E. West: His mother, Matilda Omega Miller West, was one of the people featured in the book Hidden Figures. She worked as a mathematician (at the time they were known as "computers") for Langley Research Center. However, she lost her job due to her political stance and her active affiliation with the NAACP in support of equality for Black Americans during segregation.


So next time you're on a conference call or listening to music on your phone, remember James E. West and the amazing work he did. He truly made a difference in the world and his legacy will continue to inspire future generations of audio engineers and inventors.

Arrrgh Mighty Microphone & Receiver
Materials needed:
Paper cups
Aluminum foil
Crayons or markers
Colorful decorative tape
Stickers
Arrrgh Mighty Kingdom character cutouts
Glue
Sharpened pencil or skewer
Rubber bands
Paper clips
String or yarn
A ruler
Arrrgh Mighty Observation Journal (optional)
What can you spy with your scientific eye – or ear? Who's ready to learn how sound is sent, received and amplified? Let's go!
Instructions:
Explain to the children that James E. West was a scientist who made important contributions to the field of acoustics and developed the first electret microphone, a device that converts sound into electrical signals. The children are going to create a simple microphone that they can speak into with a receiver through which they should be able to hear the person who is speaking or singing.


Each child gets 2 paper cups. Have each child creatively decorate their 2 cups by coloring them, wrapping them in colorful tape, painting them, gluing on cutouts of the Arrrgh Mighty Kingdom characters (on attached sheet), adding stickers and the like. Have each child cover the bottoms of 2 paper cups with aluminum foil and secure each with a rubber band.


Have each child use a sharpened pencil or skewer to poke a small hole through the center of the aluminum foil and the bottom of each cup.


Have each child place one end of the string or yarn through the hole in the bottom of each cup, connecting the cups and securing the string or yarn with a knot or a paperclip on the inside of each cup.


Have the children use a ruler to measure the length of the string or the distance between the bottoms of the cups.


Have each child test their microphone and receiver by speaking or playing music into one cup while another child observes what is heard in the other cup as well as the effect of the sound on the aluminum foil.


Optional: Grab your Arrrgh Mighty Observation Journal and describe or draw what you see and hear.


Have the children discuss how the microphone and receiver work and how James E. West's work on electret microphones has led to the development of modern microphones used in many devices today.



An Arrrgh Mighty Microphone Coloring Sheet is also included as a fun extension.
This activity is a fun and interactive way to introduce the concept of sound waves and how microphones work, it also helps children understand the contributions of James E. West in the field of acoustics and microphone technology.